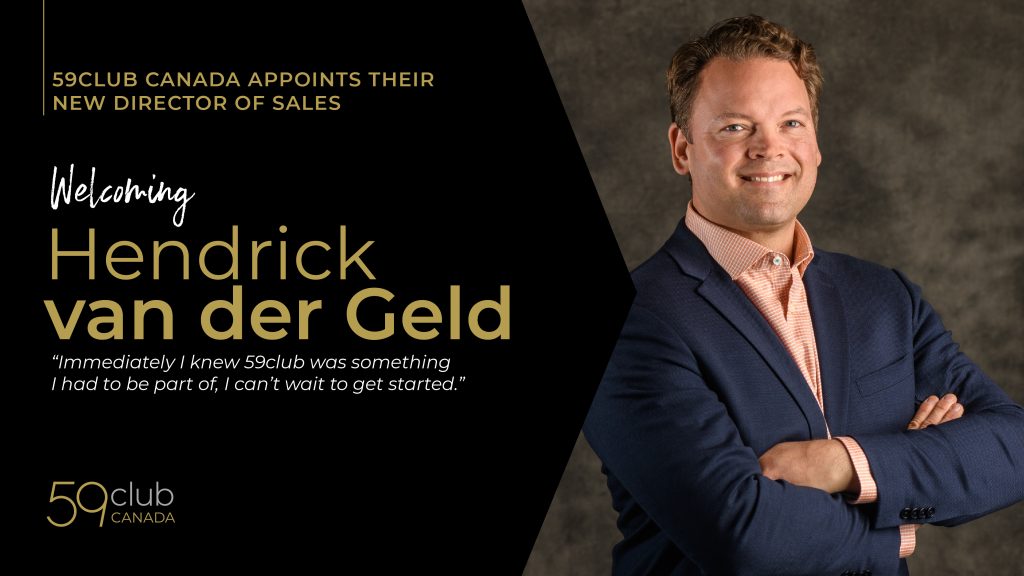 59club; the industry's leading Customer Service Analysts and Training Provider has announced today that Hendrick van der Geld is joining the team as Director of Sales. On stepping into this role within 59club Canada, Hendrick brings a wealth of experience spanning a broad range of service sectors.
An affiliation with the PGA of Canada for over 20 years; serving as a Golf Professional, Restaurant Manager, Membership & Marketing Director, General Manager and COO, while also managing entrepreneurial ventures during this time, makes for a great 59club associate.
On welcoming Hendrick; Ryan Tracy; 59club Canada's Managing Partner said; "What we found in Hendrick was something quite unique. It's rare that you come across someone who possesses all the key attributes you really aspire from in a candidate, as well as a complete appreciation of the diverse industry that 59club encompasses, and a great track record to boot. Right there and then we knew we had something special in Hendrick. And together we are confident that we can really bolster the club industry across Canada as witnessed and documented across other 59club territories before us".
Of his new appointment Hendrick added; "When I was introduced to the suite of products 59club offers, I immediately identified with the value proposition and saw the fit within the industry. The 59club performance management tools and services offer a quantitative viewpoint, and that insight and resources are much needed in the club and hospitality management space; It's something I had to be part of, I can't wait to get started".
The Canadian duo both have a passion for data; and while Ryan set up and operated Club Study across Canada & Northern USA, Hendrick too has always encouraged his teams and respective volunteer boards to use data to make informed decisions.
59club is headquartered in the UK and firmly established in golf, hotels, leisure, spa and restaurants. With seven divisions across the USA, Middle East & Africa (MEA), Asia and two in Europe, and the recent opening in Canada; 59club's performance management solutions and global intel is now available to properties within the region, with the promise of elevating customer service levels, sales performance and ultimately increasing a venues profitability.
Clubs in Canada are reminded that they can sign up for a Demo and to unlock a Free Trial by contacting either Hendrick van der Geld hendrick@59clubcanada.com or Ryan.tracy@59club.com